Act now
Sign up for the 'Sherlock Early Adopter Program'
Schedule a session with us. Our experts will get in touch, introduce you to our coaching platform (SherlockSuperCoach.AITM) and the analytics app (SherlockAcumenTM), align it with your organizational goals, and onboard you to the early adopters list.
As an early adopter organization take advantage of the opportunity to subscribe to Sherlock coaching platform and the analytics app at a discounted pricing.
This offer is valid till 31st Dec 2023!
Contact us to inquire about our special early-adopter pricing!

By leveraging SherlockSuperCoach.AI, organizations can potentially target:


70%
enhancement in Well-Being
Top US organizations are already using our coaching platform as early adopters. The onboarding process is streamlined, consisting of three clear steps:
Selecting the cohort
Initiating the kick-off of the journey
Conducting regular check-ins with the cohort as they engage with the AI-powered coaching of SherlockSuperCoach.AITM
Following this, you can sit back and observe real-time trends and insights concerning organizational climate, coaching effectiveness, and outcome trends.
You can also measure the ROI of coaching through three specific business outcomes i.e. Productivity, Engagement and Well-being, referred to as the SherlockROITM measures.
Join Sherlock Early Adopter Program Today!
Elevate your organization to new heights today!
Revolutionize your workforce with our unique AI-powered coaching journeys & experiences to embrace transformative mindsets & behaviours for unparalleled growth. Help them also navigate everyday challenges seamlessly through our conversational AI coaching.
A holistic end-to-end coaching platform

with AI powered coaching modules & monitoring system of AI powered nudges

SherlockConversationsTM


Conversational AI coaching with contextual understanding

SherlockToolsTM


Micro-learning, gamified tools & curated content

SherlockAcumenTM

The AI powered analytics app with real-time monitoring

Large scale advantage & cost saving

(as no human is involved)

App-based deployment


Ease of implementation
Measurable impact of Sherlock on the organization through Sherlock AcumenTM
Improved employee engagement
Higher resilience
Improved employee mental well-being
Upbeat organizational climate
High employee self- awareness
High performance

What our early adopters are saying: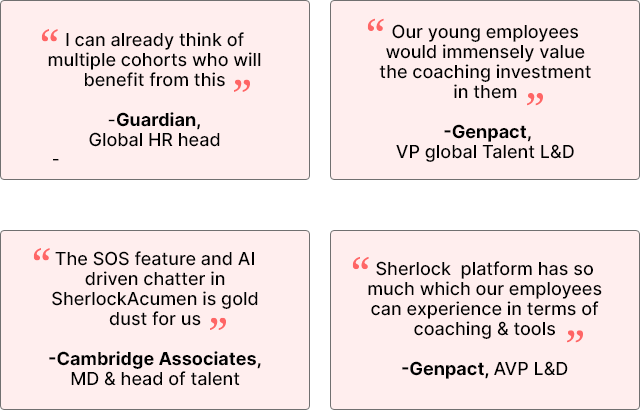 What are SherlockSuperCoach.AI™ coaching platform users saying